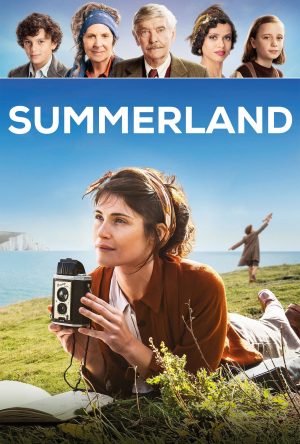 Summerland (2020)
PG
|

109 min
Terrell Showtimes

= Enhanced Digital Experience
Plot
During World War II, an Englishwoman "Gemma Arterton" opens her heart to an evacuee after initially resolving to be rid of him in this moving journey of womanhood, love and friendship.
Starring
Gemma Arterton, Gugu Mbatha-Raw, Penelope Wilton, Siân Phillips
Age Policy
All R-Rated movies are intended for an older, adult audience.
Moviegoers under 17 must be accompanied by a parent or adult guardian.
For any R-Rated movie, children under the age of 6 will not be admitted after 6PM in an effort to create a more appealing atmosphere for our adult audiences.
Adult guardians are:
21 years of age (Id required) or more.
Required to attend the entire movie with the child.
Authorized by a parent to bring the child to an R-rated feature.
Ticket Prices
| | |
| --- | --- |
| Adult: | $9.00 |
| Matinee (before 6PM): | $7.00 |
| Senior (60+): | $6.50 |
| Child (3-11): | $6.50 |
| Military (with ID): | $6.50 |
| ST-IMMERSIVE Upcharge: | $2.00 |
| 3D Upcharge: | $2.50 |